2006 GNRC NEWS
| | |
| --- | --- |
| | Brigittes Precious Baby Bear, Sch H II, BST, TC, AD, CGC earned her TDI title on September 17, 2006. |
| | Layyel Khuraffa Enkeil took High in Protection on September 15 under ADRK Judge Hans Jurgen Radtke from Germany. |
| | Jeneck's Roman Legion earned his BST on September 15 under ADRK Judge Hans Jurgen Radtke from Germany and his TDI on September 17, 2006. |
| | SG-HOT Mephistopheles Devils Charm, SchH II, BST, BH, TC, CGC earned his AD title on August 18, 2006. |
| | Brigittes Precious Baby Bear, Sch H II, BST, TC, CGC earned her AD title on August 18, 2006. |
| | Brigittes Precious Baby Bear, Sch H I, BST, TC, CGC earned her Sch H II title with Kathy Carmen on June 10, 2006. |
| | Brigittes Precious Baby Bear, BST, TC, CGC earned her Sch H I title in the Hundesport Alaska trial under USA Judge Ernest Hintz on June 10, 2006 with Kathy Carmen on June 9, 2006. |
| | SG-HOT Mephistopheles Devils Charm, BST, BH, TC, CGC earned his Sch H II and High in Obedience, High in Protection and High in Trial at the GNRC trial under USA Judge Ernest Hintz on June 11, 2006, with Kathy Carmen. |
| | CH. Dornschatten's Meister Berenchang Jager, CGC earned his BH title in the Hundesport Alaska trial under USA Judge Ernest Hintz on June 9, 2006, with Handler Shaun Lytle. |

2005 GNRC NEWS
| | |
| --- | --- |
| | HOT Mephistopheles Devil's Charm SchH1, TR1, BST, BH, TC, CGC, received his SchH 1 under USA judge Ann-Marie Chaffin, the same judge that Meph's Sire Am/Ca CH Rott-Iron's Adam Bomb SchH1 , BST, BH recieved his under in 2001 with a score of 95-73-82-P. Meph also received his TR1 under GSSCC judge Lance Collins with a 73. Carmen's new addition, Schatzie Vom Carmen-Haus, was sired by Meph and born 05-11-05. |
| | GNRC hosted a BH Seminar and handler/dogs that attended the seminar went on to earn their BH titles: Ch. Pepperhaus Xena v Stoneridge, A/C CD, RE, PT, BH owned by Cheri Hagen & Xena and Bermudian Ch. Whtfox's I Call T'Wind Mariah owned by Phyllis Castleton. |
| | Pam Tittle and Jeneck's Roman Legion, CD added a TD, a BH and a Schutzhund Tracking I title. |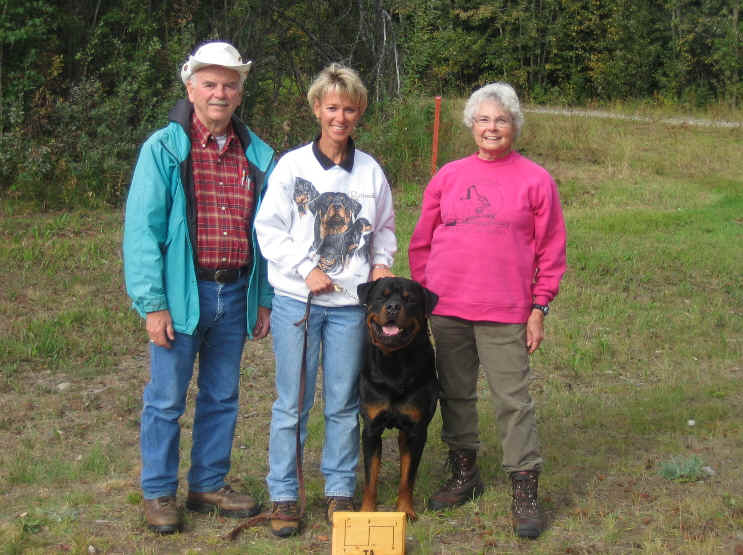 GNRC Member's fly high at Hundesport's Schutzhund Trial held August 13-14, 2004
High Tracking Shaun & Greta 78
High Obedience Kelly & Chase 77
High Protection Kelly & Chase 72
High in Trial Kelly & Chase 149
Kelly & Chase SchHA
Kathy & Raven SchH1
Shaun & Austin SchH1
Shaun & Greta SchH III
Anneliese & Ripley BH

2004 Great Northern Rottweiler Club Sieger Show & BST
Kathy Carmen's "Mephistopheles Devil's Charm" and Brigitte Lytle's "Brigitte's Precious Baby Bear" pass their BST's!


2004 USRC NW Regional SchH Championships, April 10-11, 2004
Aurora, OR
Kathy and Meph pass their BH!! Way to Go!!
Photo taken by Jane Mitchelmore

V-1 Select Adult Male Jeneck's Roman Legion can now add CD after his name! Pam and Legion earned two legs of their AKC Companion Dog title in April 2004 and their 3rd leg in May 2004!